Posted on June 24th, 2019 by maitreya. Filed under Random.
I'm entering the modern age and posting to instagram
Comments Off

on instagram
Posted on December 25th, 2018 by maitreya. Filed under Holiday, Paper Crafts.
Some Christmas crafting.  These took a little bit of trial and error to figure out how to do them in a reasonable amount of time (you have to roll 10 x 8 star points).  Using tape ended up being a lot easier than glue, and unless you're looking close up, you can't really tell.
Instructions at How About Orange.
Comments Off

on paper ornament
Posted on December 25th, 2018 by maitreya. Filed under Uncategorized.
My sister is a macrame expert and showed me how to make plant hangers.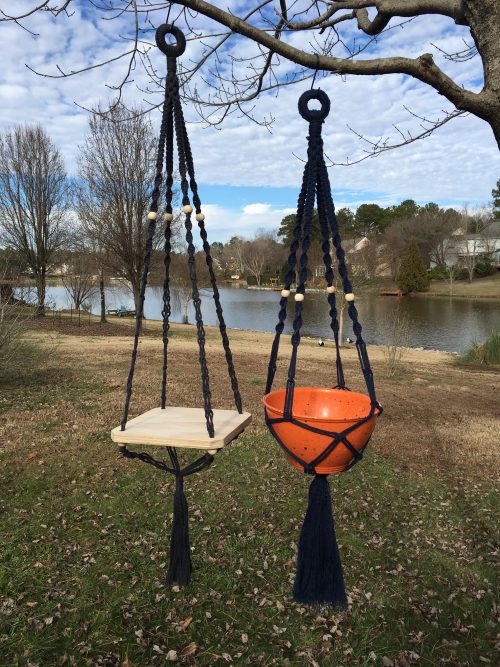 Posted on April 4th, 2018 by maitreya. Filed under Jewelry, Resin.
These ones are kind of silly, but I still like them.  Tiny rubber toys molded in an ice cube tray.  The shark's fin sticking out was a happy accident from them floating a little before the resin set.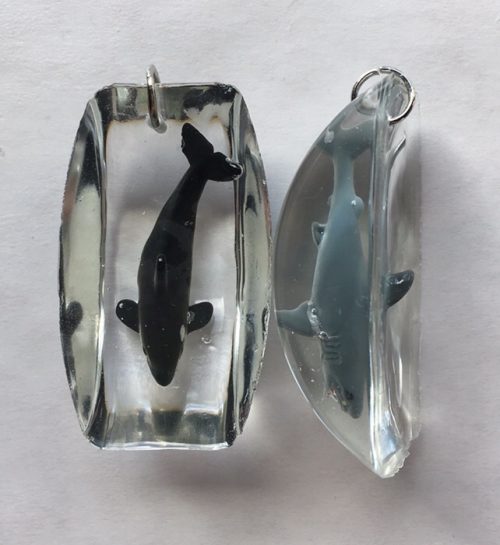 Comments Off

on Under water resin
Posted on April 1st, 2018 by maitreya. Filed under Home and Garden.
I'm trying to do all my own seeds starts this year.  My main problem with this in previous years was that the plants would mostly have issues after transplant, which was probably because I wasn't taking enough care with hardening them off.  It's so much work, though!  I came across these instructions for hardening off plants for people with jobs, which I am hoping will solve my problems.  The idea is to put them outside under 4 mil plastic that somewhat but not entirely blocks UV, but also has some ventilation so they don't roast.  I just stapled the plastic to my old chicken tractor, which we haven't used in a while for its original purpose.  I'm testing it out with some artichoke, scallion, and alpine strawberry starts, so fingers crossed!
Comments Off

on Seedling hardener
Posted on March 31st, 2018 by maitreya. Filed under Jewelry, Resin.
More resin. Top row is origami paper molded in a pill box. Bottom row is two silicone ice cube trays.
The wedge ones have a short piece of tubing glued to the top for hanging, like this previous necklace.
Comments Off

on Origami paper resin necklaces
Posted on March 15th, 2018 by maitreya. Filed under Jewelry, Resin.
Snippets from a plastic Ikea placemat, molded in a silicone ice cube tray. Pictured before I drilled holes in the top of each of them.
Comments Off

on Resin tile birds
Posted on March 10th, 2018 by maitreya. Filed under Jewelry, Resin.
More resin necklaces. These are stickers, molded in a paint palette. Shown before I drilled a hole and added a jump ring for hanging.  FYI, the holes are much easier to drill if you flip these flat side up.  I ruined another piece because the dremel slipped on the domed surface.
Comments Off

on Resin planets
Posted on March 8th, 2018 by maitreya. Filed under Jewelry, Resin.
I got a new can of resin, so now the race is on to Embed All The Things before it expires. Set 1: stamps from my childhood stamp collection.
Comments Off

on Resin stamp necklaces
Posted on February 25th, 2018 by maitreya. Filed under Random.
Some minor site updates: apparently some tweak on the server side made a bunch of my old images disappear.  Luckily the files didn't disappear, the links were just wrong, so that should be fixed now.
Also updated my link list with a few new ones and purged a few that were out of date.  So interesting how everything has moved to instagram now.
Turns out Sitemeter went out of business years ago and I didn't notice, so my poor site has been trying to contact it with every page load.  That's now replaced with Google Analytics.
Favorite new discovery of late: Promoted Pin Hider plugin to remove ads from Pinterest.  I was seriously about to quit Pinterest before I found this.
Comments Off

on 2018 updates
email
maitreya[@]craftlog[.]org
books I'm in
Pinterest
"Home" is a cotton quilt designed to recall traditional quilt patterns with a dedication to place and our relationship with it. Quilts are often used as a means to tell stories and, whether you're near or far from whatever you place you call home, those stories of home remain connected to us in so many ways. The reverse of the quilt, pieced organically...
Categories
Blogroll
Archives
creative commons
craftlog is under a
Creative Commons
Attribution Noncommercial
license
. That means that you are all welcome to take and repost my photos, replicate my projects, remix my ideas, whatever you want as long as you give attribution (a link is fine) and it's noncommercial. Thanks!